Montessori Teacher Academy
This program is dedicated to educating Montessori teachers with the guiding values and fundamental principles of the Montessori Method. Whenever possible, the principles that pertain to Montessori children's education are applied to adults. Throughout this program, adult learners will develop a love for Montessori education that will continue long past the completion of their certification.
Successful completion of all course requirements awards the student a MACTE accredited American Montessori Society Early Childhood Montessori Credential for educating children 2½ through 6 years of age. AMS is an international organization and this credential qualifies you to teach in Montessori schools all over the world. Montessori Teacher Academy graduates receive Early Childhood Education Units of College Credit (non-transferable) from this institution in the form of an official transcript. These units meet the requirements specified in Title XXII of the California Code of Regulations and are accepted by the State of California, Department of Social Services.
Our graduates are well prepared to take their place in the Montessori Early Childhood Education community. Although placement is not guaranteed, we provide information regarding positions available in the field. We have created a dedicated community of Montessorians, giving you the opportunity to continue your education, network, and make connections after the teacher training program. Our students are in high demand!
Montessori Teacher Academy provides a Teacher Education Program of the highest academic standards. Based on the Montessori principles, this program leads to full understanding and embracing of the Montessori philosophy, curriculum, and methodology. It guides the adult learner through the planning, development, and organization of the ideal classroom, a carefully prepared environment that speaks to the child's natural development of order, concentration, coordination, and independence. Our students understand the rationale and sequence of the Montessori materials, and become well-versed and confident in presenting these purposeful activities to children. Above all, the Montessori Teacher Academy inspires a commitment to creating nurturing environments that speak to the education of the whole child, with feelings of love, respect, and admiration.
The Montessori Teacher Academy provides complete and fully accredited courses in Montessori Teacher Education for children ages 2½ through 6. This program prepares adults to acquire the insights and skills needed to work with children, meet their individual needs, and plan for their continuity of learning experiences through the Montessori philosophy, theory, methodology, and practical implementation.
The adult learner will learn to demonstrate theoretical knowledge and research findings in child development and early childhood education. The student will also become part of a school team and learn how to work well with co-workers, administration, staff, parents, and the community.
Montessori Teacher Academy welcomes individuals who are 18 or over and can benefit from its educational offerings. We welcome applications from individuals of any adult age, gender identity or expression, sexual orientation, race, ethnicity, disability status, religion, or belief system. We practice a policy of non-discrimination in the admission process. No individual will be disadvantaged in the application process. All applications will be considered on their individual merits. All prospective students are invited to attend an orientation meeting before enrollment. Please look for orientation meeting and application information below.
Three credentials offered depending on the student's current level of education:
Non-refundable
due upon enrollment
Non-refundable "fee" required by the BPPE
32920 Pacific Coast Highway, Dana Point, California 92629, United States
For the intensive phase in the month of June, we focus on the four core elements of study: Practical Life, Sensorial, Math, and Language. With a week devoted to each curriculum area, we take a detailed look at the philosophy, lessons and presentations of each subject. We examine the Montessori materials to gain an in-depth understanding of their purpose and the optimal time they should be presented to each child.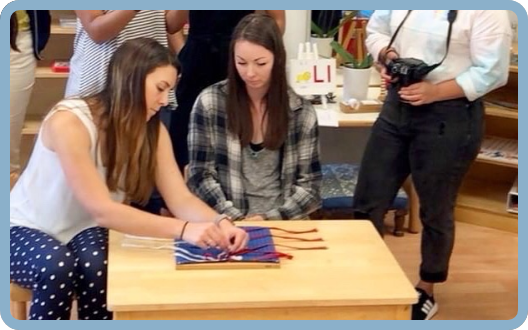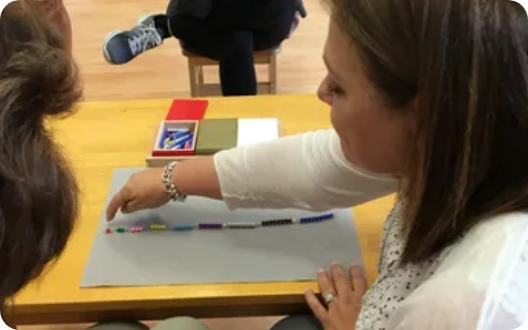 During the academic year, we explore the Montessori Methodology through readings, lectures, class discussions, and assignments. The courses covered are Philosophy, Child Development, Classroom Leadership, Observation, and Cultural Subjects.
Philosophy dives into the exploration of Maria Montessori's life and the key elements of the Montessori Methodology. Child Development gives you a look into current and past theologists, developmental patterns of young children, different learning styles, and family dynamics. You gain knowledge about classroom management strategies, environmental design, and communication tactics through Classroom Leadership. During the Observation course, you learn a framework for observation and reflection that connects theory to practice. Finally, you learn how to expand the children's awareness of the world around them through Cultural Studies. Anti-Bias and Anti-Racist Education is interwoven through all the coursework as is relevant and necessary.
The Practicum offers an opportunity to experience the theory and practice of Montessori education by observing, internalizing, and studying under the direction of an experienced teacher in a classroom environment. This is your chance to put your learning into action. It is the adult learner's duty to obtain placement at an approved Montessori school that adheres to the rules set forth by the Montessori Teacher Academy and is in line with their standards for a Practicum Site.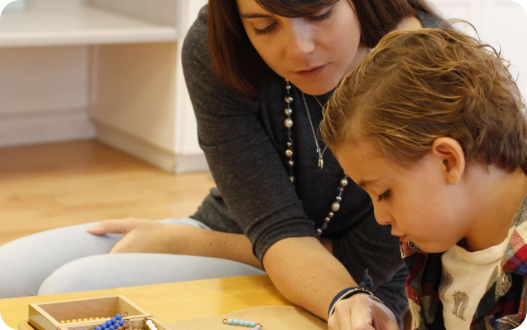 2023-2024 - SUMMER COHORT
Hybrid Program
January – December 2023
Hybrid Program
June 2023 – May 2024
Hybrid Program
September 2023 – December 2023
Orientation Meeting
December 7, 2022
First day of class
Monday, January 10, 2023
Orientation Meeting
May 10, 2023
First day of class
Monday, June 5, 2023
Orientation Meeting
August 22, 2023

First day of class
Tuesday, September 5, 2023
September 2023 – May 2024
September 2023 – December 2024
MTA APPLICATION 2023 (pdf)
MTA 2023-2024 Brochure (pdf)
MTA SCHOOL PERFORMANCE FACT SHEET (pdf)
VIRTUAL INFORMATION SESSION
6:00 pm – 7:00 pm
zoom.us
VIRTUAL INFORMATION SESSION
6:00 pm – 7:00 pm
zoom.us
SUMMER ACADEMIC COMPONENT
12 – 7:00 pm 
Monarch Bay
Montessori
September to December 2023
Monarch Bay Montessori
zoom.us
WINTER ACADEMIC COMPONENT
Monarch Bay Montessori
zoom.us
MONTESSORI ASSISTANT TRAINING COURSE
We are offering a four-week Preparation of the Montessori Assistant Training Course just in time for the new school year. The course will be delivered through Canvas with synchronous class via zoom once a week, with one in-person workshop. Participants will receive a Certificate of Attendance with 24 hours of Professional Development through AMS. Contact us to register.
6:00 pm – 8:30 pm
zoom.us
VIRTUAL INFORMATION SESSION
6:00 pm – 7:00 pm
zoom.us
September to December 2023
Monarch Bay Montessori
zoom.us
WINTER ACADEMIC COMPONENT
Monarch Bay Montessori
zoom.us
SUMMER ACADEMIC COMPONENT
12 – 7:00 pm
Monarch Bay Montessori
We are happy to set up a call, a visit, or a zoom meeting to discuss how we can support you on your journey!